SITE INDEX
FOR SALE
Highlands

FOR SALE
Highland beef
package
FOLD SIRE

THE CHICKEN
COOP

Our Farm

SLIDE SHOW

Ann's PETS
CONTACT US
HIGHLAND BEEF FOR SALE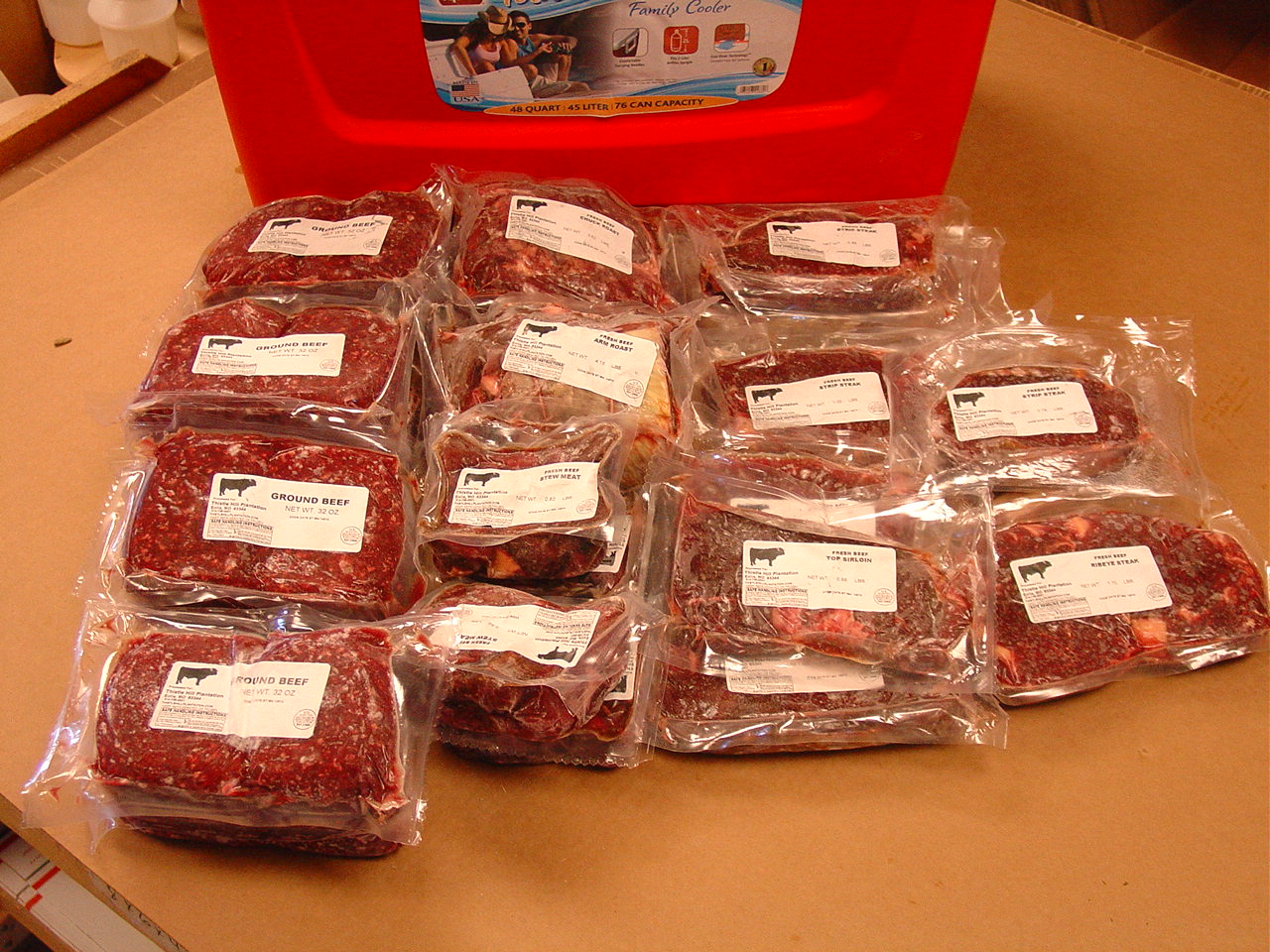 Our Highlands are raised on grass pasture we do not offer any corn or grain so they are true grass feed beef.

We are small family owned hobby farm in Pike county we raise Scottish Highlands on grass without the use of any hormones and only use antibiotics when the animals need them for a specific illness.

They are butchered by Swiss Meats in Herman MO and USDA inspected and vacuum packed.

I am offering a Freezer pack of approximately 40 lbs to 45 lbs of meat at $6.50 per pound
which includes the following

8 lbs of Roast ( Arm, Chuck, Rump )
8 lbs of Steak ( T Bone, Rib Eye, Sirloin Steak, Strip Steak )
20 lbs of Hamburger ( approximately 90% to 95% Lean )
4 lbs of stew meat

approximately 41 lbs $266.50

you can pick up on the farm we are 35 miles north of Wentzville on just off Hwy 61
or we can ship by UPS we ship in a cooler so that would be $25.00 for the cooler and $20.00 for UPS

I do accept credit cards


for the best texture and flavor of grass feed beef its best to cook no more than medium rare, olive oil should also be used

Grass Finished Beef: One of the Healthiest Foods on the Menu

When you add up the score card between grass-fed and grain-fed beef, grass-fed beef wins hands down. The more naturally raised meat has:

Less overall fat
Fewer calories
More omega-3 fatty acids
A healthier ratio of omega-6 to omega-3 fatty acids
More CLA
More vitamin E
More beta-carotene
Like all beef, grass-fed / finished beef is an excellent source of high-quality protein, iron, zinc, selenium, phosphorous, and the B-complex vitamins. But it is superior to grain-fed beef in a number of key ways. It is lower in fat and calories and higher in omega-3 fatty acids and CLA. The differences alone justify a switch to pasture-raised beef.

Fresh pasture offers hundreds of times more of these nutrients than a standard feedlot diet. As a result, grass-fed meat has up to four times more beta-carotene than conventional feedlot meat. Given all these benefits, a steak from a cow raised on pasture is even healthier for you than a chicken breast -- the meat that health authorities are so quick to recommend. The steak has about the same amount of total fat, making it an equally good choice for a heart-healthy diet, but it has more omega-3s. What's more it has less cholesterol than chicken and more than four times more CLA. Move over chicken. Make room for grass-fed beef!*

Scottish Highlands are slow maturing making the meat fine textured and succulent. They have a thick double hair coat which reduces the need for a layer of fat to stay warm. The meat is well marbled but very lean and is processed under USDA inspection. They are grass fed and grass finished NO artificial additives, hormones, or antibiotics. These Scottish Highland steers are lower in fat, cholesterol and higher in protein than any store bought beef so they are much healthier for you. Frozen and vacuum packed for best storage and dry aged 18 days for a more tender and favorable taste.
The Ministry of Agriculture, Fisheries and Food is a United Kingdom government department created by the Board of Agriculture and they produced the following table
| CUT | FAT | CHOLESTEROL | PROTEIN | IRON |
| --- | --- | --- | --- | --- |
| Pure Highland Rump | 4.2 | 45.8 | 22.4 | 2.0 |
| MAFF ALL Beef | 13.5 | 63.0 | 18.9 | 2.3 |
| Pure Highland Shoulder | 4.7 | 42.2 | 21.6 | 1.9 |
| MAFF ALL Beef | 10.6 | 63.0 | 20.2 | 2.1 |
| Pure Highland Sirloin | 7.1 | 37.0 | 21.8 | 2.3 |
| MAFF ALL Beef | 22.8 | 67.0 | 16.6 | 1.6 |
| Pure Highland ALL Cuts | 4.5 | 40.9 | 20.7 | 2.1 |
| MAFF ALL Cuts | 15.6 | 64.3 | 18.6 | 2.0 |
I am also offering a Freezer pack of approximately 40 lbs to 45 lbs of Hamburger at $5.50 per pound
which includes the following
40 lbs of Hamburger ( approximately 90% to 95% Lean )
approximately 41 lbs $220.00
you can pick up on the farm we are 35 miles north of Wentzville on just off Hwy 61
or we can ship by UPS we ship in a cooler so that would be $25.00 for the cooler and aproximatly $20.00 for UPS